A Bit of Hawai`i in Sonoma - Home Page
Hula Mai Auana Dancers
July 8, 9, 10, Ki`i Workshop

with special guest from Hawaii:

Kumu Maile Beamer Loo and Mauli`oli Cook
Sonoma Woman's Club
9AM to 4PM

For information click

HERE



The Hula Mai Road Show!
Ready to bring Hawai`i to YOUR luau!!
Call us at (707) 938-9051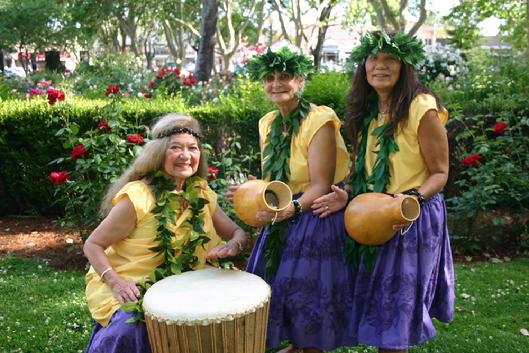 Kahiko - Betty Ann, Toni, Carolyn
Hula Mai is our taste of Hawaii right here in the town of Sonoma. It's where everyone who has ever dreamed of dancing the hula can learn how; it's where everyone who has ever danced hula before can dance again. It's where, with practice, dancers can become part of the Hula Mai performing road show. Whatever your Hula experience, you are welcome at Hula Mai.
Hula Mai means Come and Dance. We call to you now. Hula Mai.
The 2015 Ho`ike (performance) at the Grinstead Amphitheater in the Sonoma Plaza
Practicing for the Ho`ike at Del's hale
Hula Mai offers classes in both modern and ancient hula. Founder and teacher, Betty Ann Ka`ihilani Bruno, says her goal is to inspire a love for the hula and the Hawaiian culture through knowledge and understanding – and, to have fun all the while.

Students are given both written materials and video instructions to help them practice at home. Betty Ann traces her style of hula to hula legends, Ida Namanu`okawa`a Wong-Gonsalves , Uncle Joe Kahaulelio, and Tom Hiona.





Hula Mai's choreography includes both Kahiko and 'Auana
Kahiko is the old style or ancient hula, danced to a chant accompanied by a drum (Pahu) or gourd (Ipu-heke). Some ancient hulas were taught under very strict rules, and were called 'hula kapu' because they were for ceremonial purposes only, and not entertainment. Thus, they were not available to the general public. That has changed, however, since the 1970's and today Hula Kahiko is widely performed and can be enjoyed by everyone. The traditional costume for women doing Kahiko is the "pa'u."

'Auana style hula can be described as the 'modern hula.' It is danced to melodic songs accompanied by ukeleles and guitars, etc. The lyrics are often in English, as opposed to the Kahiko chants which are always in Hawaiian. Costumes for 'auana style hulas can be traditional ti-leaf skirts, or dresses adapted from western styles - the mu'umu'u, holomu'u or holoku.




Hula Mai kahiko dancers

Donna, Deb and Liz dance "Blue Lei"
People with all levels of dance experience are welcome. Comfortable clothing is recommended and also a dance wrap or pareau.
Monday kahiko class
Hula Mai's classes are at three Sonoma locations:
The Sonoma Community Center, 276 E Napa St (Fridays)
Vintage House, 264 First St. East (Wednesday evenings)
En-er-gy, 450 First St. East (in the Mercato) (Monday afternoons).

For more information, please leave a message
at (707) 938-9051

Watch Hula Mai videos by clicking here.


Remember, hula makes you happy!
Web Hosting powered by Network Solutions®